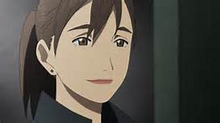 Overview
Edit
Mari Kusakabe is also a main character of the show. She travels with Mirai and Yuuki and soon start to feel almost like family to her.
Appearance
Edit
Mari has somewhat of a tan, brown eyes and medium length brown hair. Her attire for a majority of the show consists of a red and black jacket, white t-shirt, blue jeans, brown boots, with a brown belt and a dog tag like necklace. She also wears very small earrings and a black watch. 
Mari is the person that helps Mirai look for her younger brother Yuuki when they got separated during the earthquake and is also one of the main characters in the show. All of them later reunite and try to get back home but to no avail. They settle at little camps around the city and meet people as well. Mari's husband died in a motorcycle crash and has a little daughter and mother to look out for. It appears that at first her family is dead but later they find out that they are alive and well in the same episode near the end of the series. They all make it home except for Yuuki. Mari and Mirai live near each other so it easy to get to where they each live. In the last episode Mari comes to visit Mirai and her parents to bring them Yuuki's belongings.